We are open for all your health care needs. Visitor restrictions still apply.
Glenwood Regional Medical Center
Rehabilitation Services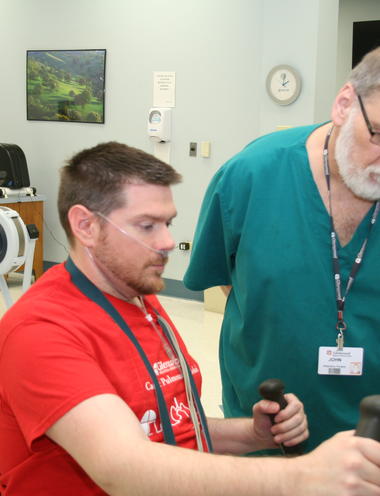 Inpatient Rehabilitation Services Provided at Glenwood Regional Med Center
Inpatient Rehabilitation
Our Rehabilitation Unit is a comprehensive inpatient program designed to help persons adjust their lifestyles and accept physical limits caused by limiting medical conditions.
Stroke

Orthopedic conditions

Arthritis

Spinal cord injury

Brain injury

Amputation

Neuromuscular disorders
---
Glenwood Inpatient Rehabilitation Unit: 318-329-3663
Glenwood Cardiac Pulmonary Rehab
102 Thomas Road
Suite 609
West Monroe, LA 71291
Please use Entrance 1 at the Medical Mall
Glenwood Cardiac Rehab: (318) 329-8440
Glenwood Pulmonary Rehab: 318-329-8437
Physical Therapy: 318-329-4770
---
Admission Criteria for Inpatient Rehabilitation Services
Patients can be referred and admitted to our Inpatient Rehabilitation Unit from home, an acute-care hospital or other facility. Prior to admission, patients are evaluated to assess whether intensive inpatient rehabilitation can be productive and helpful.
Patient must be medically stable.

Patient must have experienced a loss of functional ability (walking, bathing, dressing, eating, etc.) or somatic dysfunction (spasticity, paresis, etc.) and show potential for reasonable improvement.

Patient must be able to tolerate a comprehensive therapy program at least five days per week, three hours a day, in at least two of the following areas: Physical therapy, Occupational therapy or 

Speech/language pathology (including cognitive and swallowing deficits)

Patient must require medical supervision by a rehabilitation physician and 24-hour a day rehabilitation nursing care.

Patient must 18 years or older. (Patients under 18 will be considered on an individual basis.)

Some patients are not candidates for treatment. We do not admit patients with a primary diagnosis of chemical addiction or patients with known or suspected suicidal intent.
Cardiac Rehabilitation
The Cardiac Rehabilitation Program is designed for individuals who have experienced a heart attack, bypass surgery, angioplasty/stent, chest pains, valve disease, or individuals with multiple risk factors for developing heart disease.
Pulmonary Rehabilitation
The Pulmonary Rehabilitation program is designed for individuals who have chronic lung diseases. All pulmonary rehab programs consist of two areas; exercise and education. 
Physical Therapy
Our physical therapists can work with you to relieve pain, improve mobility, restore impaired functions and prevent or limit permanent physical disabilities. We offer a variety of therapeutic techniques, approaches and equipment in customizing each patient's treatment regime. Your therapist will closely monitor your exercises and therapies and may prescribe a home exercise program to reinforce your treatment. In addition, we will show you techniques to prevent recurring injury and to maintain your renewed mobility.
Occupational Therapy
Occupational therapy helps people learn or regain both physical and cognitive abilities to carry out the activities of daily living. These services can be especially valuable to persons recovering from a stroke or brain injury as well as those suffering from disorders like multiple sclerosis or Parkinson's disease. Following a thorough evaluation, our therapists work with each patient to help maximize skills and abilities. Often, these services make the difference that enables patients to live independently at home.
Speech Therapy
Our speech therapists work with patients to help improve the ability to speak, listen, read, write, organize and solve problems. Speech therapy can be especially helpful for patients whose abilities are impaired because of a stroke or head injury, those who suffer from speech impediments such as stuttering, patients who have suffered a hearing loss and those with a mental disability or a condition such as cerebral palsy.
Resources
Chronic obstructive pulmonary disease (COPD) is a common preventable and treatable disease. The condition is characterized by decreased airflow and difficulty breathing. The condition is usually progressive and often associated with an increased sensitivity in the airways and the lungs to noxious particles or gases like cigarette smoke, dust and automobile exhaust.