Extraordinary Nurse Recognized at Glenwood Regional Medical Center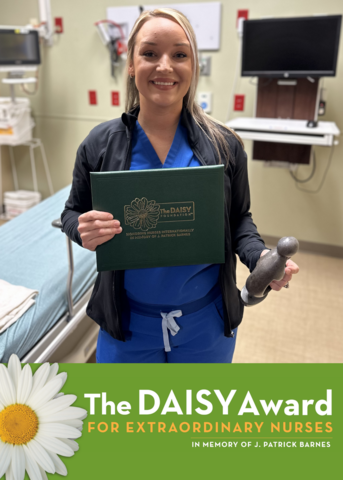 October 26, 2023 (West Monroe, Louisiana) – Kaitlyn Woodward, RN, ER Nurse at Glenwood Regional Medical Center was recently honored with The DAISY Award® For Extraordinary Nurses. The award is part of the DAISY Foundation's programs to recognize the super-human efforts nurses perform every day. 
An anonymous nomination was submitted on the care that Kaitlyn gave towards her patient. The patient's sister said this about the care they received. "Kaitlyn took very good care of my sister a few weeks ago.  The emergency room was very busy & Kaitlyn was busy herself, however she still went above and beyond to assure my sister was taken care of.  We had been waiting in the emergency waiting room for about 30-40 minutes but once we were sent to the back, we received exceptional care from our nurse."  She continues with "She assured us and helped us to understand what was going on.  If she could not give us a correct answer, she would send the attending doctor in to do so.  She had no problem getting my sister something to ease the pain she was experiencing and to calm her down.  Kaitlyn was very sweet and respectful; I wish all nurses were like her."
Sandy Goss, Director of Emergency Services at Glenwood says this about Kaitlyn.  "Kaitlyn joined the ER team a year ago as a new RN graduate.  She possesses such eagerness to learn and is consistently providing great patient care.  Kaitlyn has been an asset to the ER team, and I am proud she is a GRMC employee!"
On being honored with the award, Mackenzie said, "It is such an honor to receive the DAISY Award.  It means so much to me that i was able to care for my patients by not only treating their symptoms, but also providing compassionate care.  When I graduated nursing school it was a personal and professional goal of mine to dedicate myself to my patient's total care.  I want them to know that I will always do my best to ensure they are head and cared for to the best of my ability."
The not-for-profit DAISY Foundation was established by family members in memory of J. Patrick Barnes.  Patrick died at the age of 33 in late 1999 from complications of Idiopathic Thrombocytopenic Purpura (ITP), a little known but not uncommon auto-immune disease.  The care Patrick and his family received from nurses while he was ill inspired this unique means of thanking nurses for making a profound difference in the lives of their patients and patient families. 
Bonnie Barnes, FAAN, CEO, and Co-Founder of The DAISY Foundation said, "When Patrick was critically ill, our family experienced first-hand the remarkable skill and care nurses provide patients every day and night. Yet these unsung heroes are seldom recognized for the super-human work they do.  The kind of work the nurses at Glenwood are called on to do every day epitomizes the purpose of The DAISY Award."
Nominations for the DAISY award is encouraged year-round, and winners are chosen by a committee.  Patients, families, and colleagues are all encouraged to nominate nurses who exemplify compassionate care beyond their call of service.  To nominate a nurse for a DAISY Award, visit  www.daisynomination.org.  To learn more about the DAISY Foundation, visit www.daisyfoundation.org.
About Glenwood Regional Medical Center
Glenwood Regional Medical Center is a 278-bed, state-of-the-art hospital located in West Monroe, Louisiana.  Glenwood remains committed to providing its patients and their physicians with access to the most advanced medical breakthroughs and innovations in heart and vascular care.  Our comprehensive healthcare services include emergency care, heart care, advanced surgical procedures, diagnostic imaging, rehabilitation services, and care for a broad range of medical conditions.  Equipped with the most advanced medical technology and staffed by a team of highly skilled healthcare professionals, Glenwood is committed to providing high-quality care in a friendly hospital environment.
About Steward Health Care
Nearly a decade ago, Steward Health Care System emerged as a different kind of health care company designed to usher in a new era of wellness.  One that provides our patients better, more proactive care at a sustainable cost, our providers unrivaled coordination of care, and our communities greater prosperity and stability.
As the country's largest physician-led, minority-owned, integrated health care system, our doctors can be certain that we share their interests and those of their patients.  Together we are on a mission to revolutionize the way health care is delivered – creating healthier lives, thriving communities and a better world. 
 
Steward is among the nation's largest and most successful accountable care organizations (ACO), with more than 5,500 providers and 43,000 health care professionals who care for 12.3 million patients a year through a closely integrated network of hospitals, multispecialty medical groups, urgent care centers, skilled nursing facilities and behavioral health centers. 
 
Based in Dallas, Steward currently operates 33 hospitals across Arizona, Arkansas, Florida, Louisiana, Massachusetts, Ohio, Pennsylvania, and Texas.