EXTRAORDINARY NURSE RECOGNIZED AT Glenwood Regional Medical Center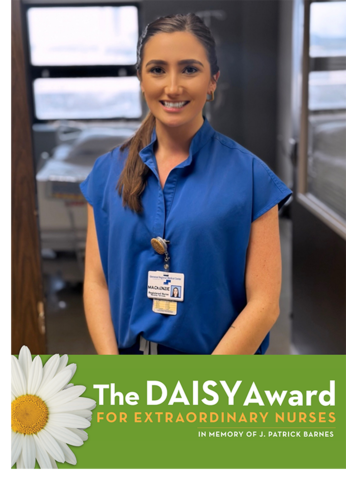 August 3, 2023 (West Monroe, Louisiana) – Mackenzie Swain, ICU Nurse of Glenwood Regional Medical Center was recently honored with The DAISY Award® For Extraordinary Nurses. The award is part of the DAISY Foundation's programs to recognize the super-human efforts nurses perform every day.  Mackenzie works as a Critical Care Nurse in our ICU.
    
The nomination submitted reads "God sends special people into our lives when we need it the most.  This was the case for my husband on May 19, 2023.  My husband had congestive heart failure in his hospital room and was rushed to ICU with much haste.   Mackenzie became my husband's nurse and oh what a wonderful, dedicated nurse she was, not only for my husband but for our family.  Mackenzie explained in detail everything that was happening, every medicine that was keeping my sweet husband alive.  She went out of her way to reassure us about his care by his team of doctors, PT, Speech Therapists, and Occupational Therapists.  Every day we watched this dedicated nurse lovingly care for every need that my husband needed.  She cared about us too and went out of her way to encourage us and to reassure us that Gary's team was doing everything to get him well and off the ventilator.  Her bubbly personality kept us smiling during a difficult time.  Her words of encouragement kept us going thru some tough days.  May 26, 2023, Gary went to a private room.  God sent us an angel in Mackenzie, and we will always be grateful for her love and wonderful care of my husband Gary." – Joyce Forsse, wife of patient Gary Forsse.
    
Lauren Currie, Director of Critical Care at Glenwood describes Mackenzie as "Brilliantly smart, very hard working, a patient advocate, and goes above what is required to help her team and patients."  Lauren also said, "Mackenzie has been an asset to our unit and to our patients from day one here in ICU.  Her compassion is felt by all her patients and is extended to their families as well. Being a nurse means you have clinical responsibilities to your patients, but we also provide emotional support to our patients and families while offering comfort and empathy in difficult times."
On being honored with the award, Mackenzie said," There is no greater privilege than to be able to provide such meaningful, devoted, and impactful care to my patients and their families in some of the most vulnerable times of their lives.  I strive to ensure all of our patients receive the best care we have to offer, no matter the discipline.  My style of nursing not only includes the knowledge and skills required to be a nurse, but a personality and communication style that takes care of the entire being.  I believe my unique personality and quirks heal our patients' spirits while the medicine and science heal their bodies. While delivering my individualized care style to our patients, I never had the goal in mind of winning an award.  I am truly humbled to be not only nominated but selected as a recipient of such a prestigious award, The DAISY Award.  It is an incredible honor and privilege to have made such an impact on my patients and their families for them to feel I was deserving of such recognition.  The DAISY Award provides me with the confidence to further explore my potential.  I am thankful to have had the opportunity to make such a difference in our patients' lives; however, this opportunity would not have been possible without the amazing team that stands alongside me.  I am eternally indebted to such an amazing team here at Glenwood.  My colleagues in all disciplines challenge me, teach me, guide me, and most importantly mold me into the greatest nurse I can be.  I cannot thank Glenwood Regional Medical Center enough for the time and dedication it has poured into me.  I am devoted to returning the favor."
    
The not-for-profit DAISY Foundation was established by family members in memory of J. Patrick Barnes.  Patrick died at the age of 33 in late 1999 from complications of Idiopathic Thrombocytopenic Purpura (ITP), a little known but not uncommon auto-immune disease.  The care Patrick and his family received from nurses while he was ill inspired this unique means of thanking nurses for making a profound difference in the lives of their patients and patient families.  
    
Bonnie Barnes, FAAN, CEO, and Co-Founder of The DAISY Foundation said, "When Patrick was critically ill, our family experienced first-hand the remarkable skill and care nurses provide patients every day and night. Yet these unsung heroes are seldom recognized for the super-human work they do.  The kind of work the nurses at Glenwood are called on to do every day epitomizes the purpose of The DAISY Award."
    
Nominations for the DAISY award are encouraged year-round, and winners are chosen by a committee.  Patients, families, and colleagues are all encouraged to nominate nurses who exemplify compassionate care beyond their call of service.  To nominate a nurse for a DAISY Award, visit  www.daisynomination.org. To learn more about the DAISY Foundation, visit www.daisyfoundation.org.
About Glenwood Regional Medical Center
Glenwood Regional Medical Center is a 278-bed, state-of-the-art hospital located in West Monroe, Louisiana.  Glenwood remains committed to providing its patients and their physicians with access to the most advanced medical breakthroughs and innovations in heart and vascular care.  Our comprehensive healthcare services include emergency care, heart care, advanced surgical procedures, diagnostic imaging, rehabilitation services, and care for a broad range of medical conditions.  Equipped with the most advanced medical technology and staffed by a team of highly skilled healthcare professionals, Glenwood is committed to providing high-quality care in a friendly hospital environment.
About Steward Health Care
Nearly a decade ago, Steward Health Care System emerged as a different kind of health care company designed to usher in a new era of wellness.  One that provides our patients better, more proactive care at a sustainable cost, our providers unrivaled coordination of care, and our communities greater prosperity and stability.
As the country's largest physician-led, minority-owned, integrated health care system, our doctors can be certain that we share their interests and those of their patients.  Together we are on a mission to revolutionize the way health care is delivered – creating healthier lives, thriving communities and a better world. 
 
Steward is among the nation's largest and most successful accountable care organizations (ACO), with more than 5,500 providers and 43,000 health care professionals who care for 12.3 million patients a year through a closely integrated network of hospitals, multispecialty medical groups, urgent care centers, skilled nursing facilities and behavioral health centers. 
 
Based in Dallas, Steward currently operates 33 hospitals across Arizona, Arkansas, Florida, Louisiana, Massachusetts, Ohio, Pennsylvania, and Texas.