Glenwood Regional Medical Center Receives an 'A' for Patient Safety for the Spring 2019 Leapfrog Hospital Safety Grade
WEST MONROE, LA, May 15, 2019 – Glenwood Regional Medical Center, a Steward family hospital, was awarded an 'A' from The Leapfrog Group's spring 2019 Leapfrog Hospital Safety Grade. The designation recognizes Glenwood's efforts in protecting patients from harm and meeting the highest safety standards in the United States. Glenwood is part of Steward Health Care – the largest private, tax-paying physician-led health care network in the United States – which leverages technology, innovation, and care coordination to provide the highest quality care and safety in communities where patients live.
"We are thrilled to receive an 'A' from the Leapfrog group. Keeping our patients healthy and safe is our top priority at Glenwood Regional and across all Steward hospitals," said Jeremy Tinnerello, President of Glenwood Regional Medical Center. "This 'A' grade is a testament to the dedication of our care teams to continuously strive to improve patient safety and outcomes."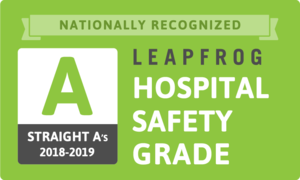 "To be recognized nationally as an 'A' hospital is an accomplishment the whole community should take pride in," said Leah Binder, president and CEO of The Leapfrog Group. "Hospitals that earn an 'A' grade are making it a priority to protect patients from preventable medical harm and error. We congratulate hospital leaders, board members, staff, volunteers and clinicians who work so hard to earn this A." 
Developed under the guidance of a National Expert Panel, the Leapfrog Hospital Safety Grade uses 28 measures of publicly available hospital safety data to assign grades to more than 2,600 U.S. acute-care hospitals twice per year. The Hospital Safety Grade's methodology is peer-reviewed and fully transparent, and the results are free to the public.
Glenwood was awarded an 'A' grade today, when Leapfrog announced grades for the spring 2019 update. To see Glenwood Regional Medical Center's full grade details, and to access patient tips for staying safe in the hospital, visit hospitalsafetygrade.org and follow The Leapfrog Group on Twitter and Facebook.
About Glenwood Regional Medical Center
Glenwood Regional Medical Center is a 278-bed, state-of-the-art hospital located in West Monroe, Louisiana. Glenwood offers comprehensive healthcare services, including emergency care, heart care, advanced surgical procedures, diagnostic imaging, maternity care, rehabilitation services, and help for a broad range of medical conditions. Equipped with the most advanced medical technology, and staffed by a team of highly skilled healthcare professionals, Glenwood is committed to providing high-quality care in a friendly hospital environment. To learn more go to www.glenwoodregional.org.
About Steward Health Care
Steward Health Care is the largest private, tax-paying physician-led health care network in the United States. Headquartered in Dallas, Texas, Steward operates 37 hospitals in the United States and the country of Malta that regularly receive top awards for quality and safety. The company employs approximately 42,000 health care professionals. The Steward network includes multiple urgent care centers and skilled nursing facilities, substantial behavioral health services, over 7,900 beds under management, and approximately 2.2 million full risk covered lives through the company's managed care and health insurance services.
The Steward Health Care Network includes 5,000 physicians across 800 communities who help to provide more than 12 million patient encounters per year. Steward Medical Group, the company's employed physician group, provides more than six million patient encounters per year. The Steward Hospital Group operates hospitals in Malta and nine states across the U.S., including Arizona, Arkansas, Florida, Louisiana, Massachusetts, Ohio, Pennsylvania, Texas, and Utah. For more information, visit www.steward.org.
About The Leapfrog Group
Founded in 2000 by large employers and other purchasers, The Leapfrog Group is a national nonprofit organization driving a movement for giant leaps forward in the quality and safety of American health care. The flagship Leapfrog Hospital Survey collects and transparently reports hospital performance, empowering purchasers to find the highest-value care and giving consumers the lifesaving information they need to make informed decisions. The Leapfrog Hospital Safety Grade, Leapfrog's other main initiative, assigns letter grades to hospitals based on their record of patient safety, helping consumers protect themselves and their families from errors, injuries, accidents, and infections.