We are open for all your health care needs. Visitor restrictions still apply.
Glenwood Regional Medical Center
Pediatrics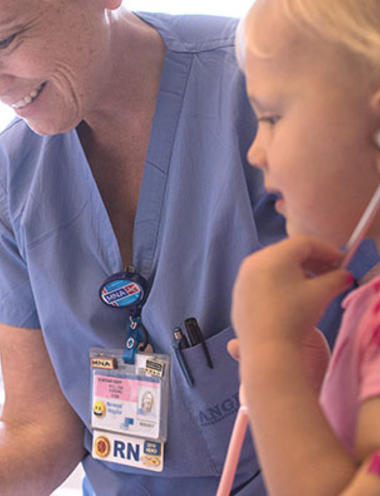 If your child's condition doesn't require intensive care, he or she can receive complete, routine nursing care in the Pediatric Unit. Pediatric Unit nurses are well experienced in attending to a variety of illnesses and conditions, and registered nurses have been certified in Pediatric Advanced Life Support (PALS). Special monitoring is available for children who require a higher level of care, and special programs and features are available for both parents and children alike.
Glenwood's 13-bed Pediatric unit, conveniently located in our Women's and Children's Pavilion, cares for inpatients, ambulatory surgical patients, and short-stay patients with a wide range of medical conditions. It is designed especially for the care and comfort of children, from newborn through adolescence.
Specialty Features of Our Pediatrics Unit
We understand how stressful a hospital stay can be for children and their parents.
Special features of the Pediatric Unit includes:
Large and comfortable pediatric rooms
Extra-large chairs for sleeping parents
Guest trays for parents
Hostess Program for children with special nutrition needs and for children who want a snack outside the regularly scheduled dining times
Children's playroom and VCRs in every room
All children 13 and under must have a parent or guardian staying with them.
Resources

As a new school year nears, many parents look forward to seeing their little and big ones climb up the bus steps and venture off after summer vacation ends. With the excitement of another school year, and establishing routines, also comes a task several parents dread – packing the school lunch.

As summer begins to wind down and students prepare to return to school, it's never been more important to buckle down and get organized – especially as it relates to your child's health. Between scheduling carpools and making dorm-room shopping trips, it's easy for things to slip through the cracks. That's why it is important for physicians to use back-to-school as an opportunity to check in with patients and their families about health and wellness tips to keep in mind during this hectic time of year.