Wound Care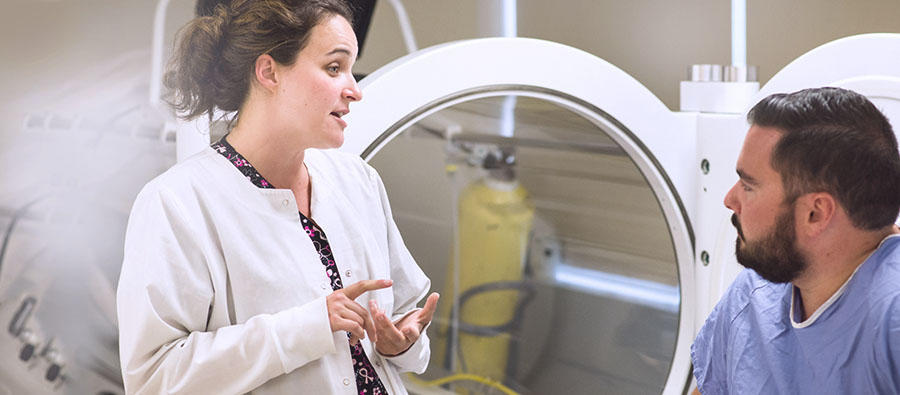 We are here to help you find what you need.
If you are suffering from a chronic, slow-, or non-healing wound, then the time to take control is now. The wound care team at Glenwood has experience in caring for a variety of wounds at all stages.
If you are not sure as to whether or not your wound needs advanced care, talk to your primary physician.
At Glenwood Hyperbaric and Wound Care Center, patients walk through a four-phase wound care process. The four-phase care model begins with an initial assessment and includes treatment, surgery (if necessary), and education.
Assessment: During this phase, you will undergo a full evaluation and various non-invasive vascular studies. Your wound care team will ask about your medical history and determine a unique treatment plan to meet your needs.
Treatment: Treatment options can vary widely depending on the type of wound you have and how advanced it is. Common treatment options include debridement, antibiotic drugs, and compression therapy. Hyperbaric oxygen therapy is another form of advanced wound treatment that is available at Glenwood Hyperbaric and Wound Care Center. In HBO2 therapy, 100% oxygen (10 to 20 times the normal amount found in the air we breathe) is pumped into a pressurized chamber; the exposure to oxygen boosts the immune system and helps transport blood cells to the wound area. 
Surgery: Surgery is not always necessary for treating a wound. However, some advanced wounds, especially chronic wounds that have become infected, may require surgery. There are several types of surgeries available for wound care, including deep debridement, skin grafting, and revascularization.
Education: Once your wound has been properly cared for and treated, your wound care specialists will discuss the steps you can take to care for the affected area. If you need assistance in managing your diabetes or quitting tobacco use, your wound care team may be able to provide guidance in these areas.
How to Recognize Wound Infection
Bleeding that soaks through the dressing 

Increased drainage, usually foul-smelling and discolored (yellow, yellow-green)

Pink fluid weeping from the wound

Increased pain, swelling, or redness in the skin around the wound

Change in color of the wound

Increase in wound size

Fever over 101 ºF, fatigue, loss of appetite 
In contrast, a normal wound that is healing properly will appear bright red with fairly uniform color. Normal wounds should respond to oral antibiotics, ointments, and other traditional treatment options.
If traditional treatment under the supervision of your primary physician is not effective, then you may be referred to Glenwood Hyperbaric and Wound Care Center for advanced wound treatment.
How to Prevent Wound Infection
Here's what you can do to reduce the chances of your wound becoming infected:
If an acute wound, wash it immediately with soap and water
Apply non-prescription antibiotic ointment to the wound
Cover it with an appropriate bandage or gauze dressing
Be sure to keep the wound especially clean and dry for the first 24 hours
Change the dressing daily, using sterile gloves
Alert your primary care physician if you notice any symptoms of infection and/or are at risk for wound infection
Diabetics, long-term smokers, and individuals with blood circulation problems are at a greater risk for infection